Analysis of the different signal acquisition schemes of an optical feedback based laser diode interferometer
Analyse des différents schémas d'acquisition d'un capteur interférométrique par réinjection optique dans une diode laser .
The optical feedback interferometry phenomenon occurs when a portion of the output optical power is back-scattered from a remote target and coupled into the laser cavity to vary the laser's emission properties (frequency and power mostly). Thus, this scheme results in a compact, self-aligned and contact-less interferometric sensor. Recent applications of optical feedback interferometer in the domains of microfluidics or acoustics have shown promising results and open new fields of researches. However in these applications, the amplitude of the sensing signal is extremely small due to the weakness of the backscattered power changes that are measured. In this thesis, an analytical model that describes the laser injection current and temperature dependence of the optical feedback interferometry signal strength for a single-mode laser diode has been derived from the Lang and Kobayashi rate equations. The model has been developed for all the known signal acquisition methods of the optical feedback interferometry scheme: from the package included monitoring photodiode, by collection of the laser power with an external photodetector and by amplification of the variations in the laser junction voltage. The model shows that both the photodiodes and the voltage signals strengths are related to the laser slope efficiency, which itself is a function of the laser injection current and of the temperature. Moreover, the model predicts different behaviors of the photodiodes and the voltage signal strengths with the change of the laser injection current and the temperature; an important result that has been proven by conducting measurements on all three signals for a wide range of injection current and temperature. Therefore, this simple model provides important insights into the radically different biasing strategies required to achieve optimal sensor sensitivity for the different interferometric signal acquisition schemes. In addition, the phase and amplitude relationships between the external and the in-package photodiode signals have been investigated theoretically and experimentally demonstrating unexpected results. Based on our model and experimental observations, a critical study has been performed on the impact of the combination of the three signals in the signal processing strategy in order to improve the sensor sensibility to low amplitude optical feedback.
Le phénomène d'interférométrie par réinjection optique se produit lorsqu'une portion de la puissance optique du laser est rétrodiffusée par une cible distante puis réinjectée dans la cavité laser ce qui affecte les propriétés d'émission du laser (fréquence et puissance en particulier). Ce principe résulte alors e n un capteur interférométrique compact, auto - aligné et sans contact. Des applications récentes des capteurs par réinjection optique dans les domaines de la microfluidique et de l'acoustique ont montré des résultats prometteurs et ouvert de nouveaux domain es de recherche. Pourtant, dans le cadre de ces applications, l'amplitude du signal est extrêmement faible à cause de la faible amplitude des variations de la puissance rétrodiffusée qui est mesurée. Dans cette thèse, un modèle analytique décrivant la dépe ndance de l'amplitude du signal issu d'une diode laser monomode au courant d'injection et à la température est développé à partir des équations d'évolution de Lang et Kobayashi. Le modèle a été développé pour toutes les méthodes connues d'acquisition du si gnal interférométrique par réinjection optique : par la photodiode de monitoring incluse dans le boîtier de la diode laser, par la captation de la puissance optique au moyen d'un photodétecteur externe et par l'amplification de la tension aux bornes de la diode laser elle - même. Le modèle démontre que les signaux des photodiodes et de la tension sont liés à l'efficacité externe de la diode laser, qui elle - même est fonction du courant injecté et de la température. Qui plus est, le modèle prédit une évolution très différente de l'amplitude de ces différents signaux en fonction du courant d'injection ou de la température. Un résultat remarquable , confirmé par une campagne de mesures pour ces trois types de signaux sur une large plage de courants d'injection et de températures. Ainsi ce modèle simple permet une compréhension nouvelle des stratégies de polarisation très différentes de la diode laser permettant d'obtenir une sensibilité optimale du capteur dans les différents schémas d'acquisition du signal. Par a illeurs, les relations entre la phase et l'amplitude des signaux issus des photodiodes externes et de monitoring ont été étudiées sur le plan théorique et expérimental ce qui a permis de révéler des résultats inattendus. À partir du modèle et basé sur des observations expérimentales, une étude critique a été menée sur l'impact de la combinaison des trois signaux dans la stratégie de traitement du signal afin d'améliorer la sensibilité du capteur aux réinjections optiques de faible amplitude.
Fichier principal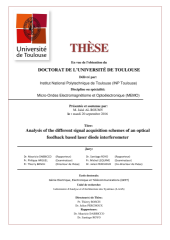 2016_PhDs_AlRoumy.pdf (3.01 Mo)
Télécharger le fichier
Origin : Files produced by the author(s)